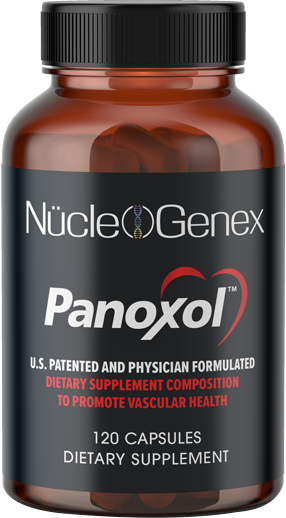 PanoxolTM
US-Patented
Physician-Invented Supplement
Offering a robust list of targeted ingredients.

Panoxol vs Normal Herbal Supplements
Physician Formulated, US Patented
Sourced from Natural Ingredients
Improves Peripheral Blood Flow
Promotes Vascular Health
Supports Healthy Nitric Oxide Levels
This patented formulation can be utilized as a centerpiece in a natural medicine treatment protocol or as an ancillary complement to a traditional prescription regimen.
The full complement of ingredients in Panoxol allows you as a practitioner to utilize one formulation that is by design, a protocol in a bottle! Panoxol has 8 ingredients that act in unison to help promote better cardio-metabolic health by supporting: de-inflammation, restoration of vascular integrity, boosting Nitric Oxide levels, improved blood flow, and regulation of cholesterol levels.